Current pageFEnglish Home>Department of Developmental Disorders
Department of Developmental Disorders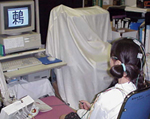 @Targets of the research in the Department of Developmental Disorders are to investigate etiology diagnosis, treatment and care of mental retardation, autistic disorder, learning disorder, attention deficit hyperactivity disorder and other neurological diseases affecting cognitive functions in developing brain and mind. Studies on higher cortical function in children with developmental disorders and development of rehabilitation program on autistics and learning disorders proceed. Neurobehavioral function in mutant model animals has also been analyzed with success. Other research activities include an assessment of the cognitive function in childhood adrenoleukodystrophy and patients with focal brain lesions. Extensive survey on functional regression and social participation in persons with mental retardation is also progressed.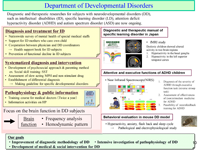 Click to Large
Staffs
| | |
| --- | --- |
| Position | Name |
| Director | Masumi INAGAKI |
| Section Chief | Yoshimi KAGA |
| Section Chief | Yousuke KITA |
Contact
Department of Developmental Disorders,
National Institute of Mental Health,
National Center of Neurology and Psychiatry.
Address:
4-1-1 Ogawahigashi, Kodaira,
Tokyo 187-8553, Japan