Current pageFEnglish Home>Department of Adult Mental Health
Department of Adult Mental Health
@The Department of Adult Mental Health carries out following researches into psychological trauma. a) Clinical study of the cognitive behavioral therapy such as the prolonged exposure therapy and pharmacotherapy for PTSD or complicated grief. b) The development of effective support system for disaster and criminal victims, by way of on-site supervising intervention in natural disaster, epidemiological survey on the psychological aftermath of disaster, as well as accumulating expert knowledge in the committee held by the Cabinet Office of the Japanese government. c) Follow-up studies of motor vehicle accidents and domestic violence victims, so as to clarify longitudinal psychological effects and to establish psychiatric assessment and service for traumatized victims in the general hospital and emergency unit medicine. d) Studies on neural pathogenesis of PTSD via investigation on the sleep effects upon consolidation of affective memory and the mechanism of the extinction and renewal of traumatic memory, with methods of functional brain imaging, event-related EEG and DNA expression. The achievements are integrated in to the development of adequate support system of trauma victims and effective treatment of PTSD and complicated grief, whose benefits are redistributed to the society through training seminars, guidelines, and activities in official committees, etc. We also research on how to reduce trauma against schizophrenia and other mental disorders.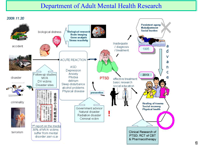 Click to Large
Staffs
| | |
| --- | --- |
| Position | Name |
| Director | Yoshiharu KIM |
| Section Chief | Yuriko SUZUKI |
| Section Chief | Hiroaki HORI |
| Section Chief | Atsushi SEKIGUCHI |
| Section Chief | Yasuko SHINOZAKI |
Contact
Department of Adult Mental Health,
National Institute of Mental Health,
National Center of Neurology and Psychiatry.
Address:
4-1-1 Ogawahigashi, Kodaira,
Tokyo 187-8553, Japan
TEL: +81-42-346-1986