Department of Psychophysiology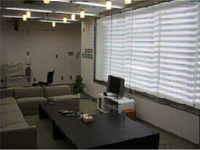 @The Department of Psychophysiology conducts research activities that focus on understanding and clarifying various mental functions such as human consciousness, cognition and emotion, as well as sleep and biological rhythms based on brain sciences, in order to develop diagnostic and therapeutic techniques that contribute to mental health. The department has an experimental unit that enables highly advanced research on sleep-wake mechanisms and biological rhythms. Major areas of research include: 1)the diagnosis and treatment of sleep disorders, 2) the elucidation of the pathology of biological rhythm disorders and basic research on biological rhythms, 3) the epidemiological study of sleep habits, sleep disorders and mood disorders, and 4) the development of pharmacological and non-pharmacological methods of treating sleep disorders and depression including the use of bright light and sleep deprivation.
@Basic research has been conducted on the effects of bright light on biological rhythms and sleep. Clinical applications of bright light in the treatments of circadian disorders and seasonal depression have been developed. It is one of the best-equipped time-isolation unit of the world.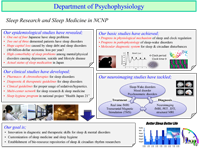 Click to Large
Staffs
| | |
| --- | --- |
| Position | Name |
| Director | Kazuo MISHIMA |
| Section Chief@ | Akiko HIDA |
| Section Chief | Shingo KITAMURA |
Contact
Department of Psychophysiology,
National Institute of Mental Health,
National Center of Neurology and Psychiatry.
Address:
4-1-1 Ogawahigashi, Kodaira,
Tokyo 187-8553, Japan
TEL: +81-42-341-2711