Department of Social Psychiatry
@The Department of Social Psychiatry conducts "Health Services Research" in psychiatry to evaluate and to improve quality of psychiatric care including the following areas:
1) Research on comorbidity with physical illness (e.g., cardiac diseases, diabetes)
2) Health administration research (quality of care, safety management)
3) Health policy research (payment system, suicide prevention, research evaluation)
@The department launched national projects to optimize the prescription of antipsychotics and to minimize restraint and seclusion in emergency and acute psychiatric care units in 2006,and to promote psychiatric care in general hospitals in 2009(scaled up as The National Mental Health Care Project for Patients with Physical Illness in 2012). These collaborative projects between clinicians and researchers are expected to become international platforms for multi-centre clinical research and driving forces for continuous quality improvement in psychiatric care.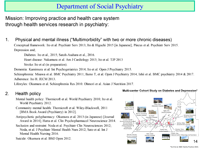 Click to Large
Staffs
| | |
| --- | --- |
| Position | Name |
| Director | Hiroto ITO |
| Section Chief | Yasuhiro HORIGUCHI |
| Reserch fellow | Megumi HAZUMI |
Contact
Department of Social Psychiatry,
National Institute of Mental Health,
National Center of Neurology and Psychiatry.
Address:
4-1-1 Ogawahigashi, Kodaira,
Tokyo 187-8553, Japan
TEL: +81-42-346-2046