Current pageFEnglish Home>Department of Forensic Psychiatry
Department of Forensic Psychiatry
@The Department of Forensic Psychiatry was established as the 11th department of the NIMH in Oct, 2003 to monitor and ameliorate forensic mental health system and is the only public research facility in Japan which officially bears the name gforensic psychiatryh. The department consists of three sections; Forensic System Monitoring Research, Forensic Treatment and Rehabilitation Research, and Forensic Assessment and Diagnostics Research. The department aims to advance interdisciplinary research projects at the intersection between mental health and law. The research areas include risk assessment, risk management, cognitive behavioral therapy for forensic patients, criminal responsibility, expert testimony, epidemiology, crime victims, juvenile delinquency, criminal profiling, ethics and human rights, etc.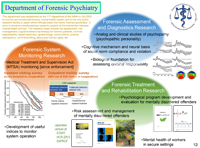 Click to Large
Staffs
| | |
| --- | --- |
| Position | Name |
| Director | Kazuyuki NAKAGOME, Director General of NIMH (acting) |
| Section Chief | Toshiaki KONO |
| Section Chief | Akiko KIKUCHI |
| Research Fellow | Takahiro OSUMI |
Contact
Department of Forensic Psychiatry,
National Institute of Mental Health,
National Center of Neurology and Psychiatry.
Address:
4-1-1 Ogawahigashi, Kodaira,
Tokyo 187-8553, Japan
TEL: +81-42-346-2172 (Director, direct number)
FAX: +81-42-346-2173