Current pageFEnglish Home>Department of Psychosomatic Research
Department of Psychosomatic Research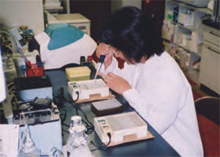 @The mind influences the body through the nervous, immune, and endocrine systems, a relationship that can result in a number of illnesses when a person is under stress. In addition, the mind also has an effect on various physiological changes in the body. The department conducts clinical and basic research into psychosomatic disorders, focusing on physical illnesses closely related to mental stress, eating disorders, and lifestyle-related diseases. In addition to the causes and mechanisms, we also investigate the pathology of these conditions. The department endeavors to develop effective treatments and preventive measures based on these activities.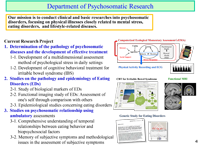 Click to Large
Staffs
| | |
| --- | --- |
| Position | Name |
| Director | Kazuyuki NAKAGOME, Director General of NIMH (acting) |
| Section Chief | Tetsuya ANDO |
Contact
Department of Psychosomatic Research,
National Institute of Mental Health,
National Center of Neurology and Psychiatry.
Address:
4-1-1 Ogawahigashi, Kodaira,
Tokyo 187-8553, Japan
TEL: +81-42-341-2711
FAX: +81-42-346-1957