Current pageFEnglish Home>Japan Support Center for Suicide Countermeasures(JSSC)
Japan Support Center for Suicide Countermeasures(JSSC)
@Japan suffers from a high suicide rate and there is an urgent need to draw up countermeasures and implement them widely. With such national background, this Center was created and the Suicide Prevention Law was enacted in June 2006. Our mission is to prevent suicide and provide support for the survivors, thus helping to create a stable society where people can lead healthy, meaningful lives.
@The Center consists of three sections: i) Suicide Epidemiology, which engages in epidemiological research on suicide and suicide-related behavior; ii) Suicide Prevention Support, which plans training programs and conducts surveys and research on care for survivors and relatives, etc.; and iii) Medical Research on Suicide, which researches psychiatric disorders influencing suicide.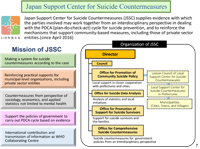 Click to Large
Staffs
| | |
| --- | --- |
| Position | Name |
| Director | Yutaka@MOTOHASHI |
| Section Chief | Yoshihiro KANEKO |
| Section Chief | Koji FUJITA |
| Research Fellow | Manami OCHI |
| Research Fellow | Kazu MORIGUCHI |
Contact
Japan Support Center for Suicide Countermeasures(JSSC),
National Institute of Mental Health,
National Center of Neurology and Psychiatry.
Address:
4-1-1 Ogawahigashi, Kodaira,
Tokyo 187-8553, Japan