Current pageFEnglish Home>Department of Drug Dependence Research
Department of Drug Dependence Research
@The activities of the department mainly consist of research, training, and social/community activities. Research activities consist of 1) epidemiological studies aimed to understand the drug abuse/dependence situation in Japan, 2) clinical studies on methamphetamine-related mental disorders and solvent-related mental disorders, and 3) biological and behavioral pharmacological studies on drug dependence. The department holds training seminars on drug dependence for clinical doctors, nurses and comedical staffs. The social/community activities cover a wide range of activities including collaboration with the United Nations and WHO as well as various governmental departments and self-governing bodies, support to the development and preparation of drug education materials, and the advises for research activities.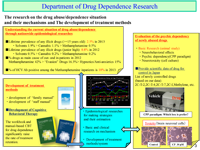 Click to Large
Staffs
| | |
| --- | --- |
| Position | Name |
| Director | Toshihiko MATSUMOTO |
| Section Chief | Masahiko FUNADA |
| Section Chief | Takuya SHIMANE |
| Section Chief | Ayumi KONDO |
Contact
Department of Drug Dependence Research,
National Institute of Mental Health,
National Center of Neurology and Psychiatry.
Address:
4-1-1 Ogawahigashi, Kodaira,
Tokyo 187-8553, Japan
TEL: +81-42-346-1954
FAX: +81-42-346-1954