Current pageFEnglish Home>Department of Neuropsychopharmacology
Department of Neuropsychopharmacology
@The Department of Neuropsychopharmacology carries out research into problems concerning the various mental disorders in the rapidly aging society of Japan. Especially, depression, adjustment disorders and suicide are focused in the department. Research programs of the department conduct clinical, psychopharmacological, physiological, psychological, epidemiological studies in the prevention of these problems. The department also endeavors to develop evidence-based diagnosis, clinical guidelines, and therapeutic medical/social interventions.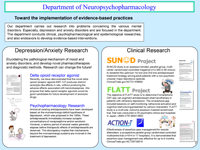 Click to Large
Staffs
| | |
| --- | --- |
| Position | Name |
| Director | Mitsuhiko YAMADA |
| Section Chief | Hideki MIWA |
| Section Chief | Hiroki FURUIE |
Contact
Department of Neuropsychopharmacology,
National Institute of Mental Health,
National Center of Neurology and Psychiatry.
Address:
4-1-1 Ogawahigashi, Kodaira,
Tokyo 187-8553, Japan
TEL: +81-42-341-2711
FAX: +81-42-346-1994